The New York Stars of the World Football League officially became the Charlotte Stars Wednesday.
Calling Charlotte "one of the last great areas in the country for professional football," the team's new vice president, Upton Bell said:
"We are going to give you everything we can, 100 per cent, to make this thing go in Charlotte."
Although Bell said "we're here to stay," he admitted at least as possibility that the move could be temporary.
He has made arrangements with Stars' owner Robert Schmertz to buy the team if he can pout together a group of investors.
"The only way this team would not be in Charlotte next year would be if there were absolutely no investors, and I can't imagine that happening," Bell said.
With Bell at a news conference at the Manager Motor Inn were head Coach Vito "Babe" Parilli, defensive tackle John Elliott and offensive tackle Mark Herkenhoff, fresh from a 37-7 victory Tuesday night over the Detroit Wheels.
Until last weekend the Wheels, not the Stars, appeared to be headed for a new home in Charlotte.
Parilli said the players were "delighted" when he told them about he move after the game Tuesday night.
Bell said he wants local fans to pick new name for the tam but that arrangements for that process haven't been made.
"It's most important that we sell out the remaining games," Bell said.
Bill Hensley, chairman of the Chamber of Commerce sports committee, said his phone had been "ringing off the hook since last night," with callers wanting to know how to buy tickets for the games.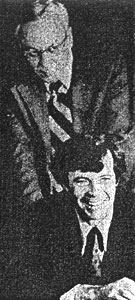 Upton Bell's grin tells the story with C of C's Bill Hensley