The football team is in a huddle, and B.D., the team captain and hotshot quarterback, is drilling them on the playbook.

B.D.: "Harris, say some big bruiser has cornered you and is about to take your playbook from you. What do you do?"

Harris: "I let him make a Xerox of it?"

B.D.: "You EAT it!"

Anybody who reads the comic strip "Doonesbury, which appears daily in The Observer and dozens of other newspapers across the nation, knows B.D.

The comic strip character B.D. is a football star and campus hero who wears his helmet to class. He's so superstraight that he probably starches his sweatsocks. He believes in Mom, apple pie, John Wayne and fiscal conservatism.

Brian Dowling
But B.D. is not just a fictional creation of cartoonist Gary Trudeau's pen and ink. He's a real, live, 6-foot 2-inch, 200-pound football player. And what's more, he'll be playing his football this season in Charlotte.
B.D. stands for Brian Dowling, one of the biggest stars Yale University ever had and presently reserve quarterback for the new Charlotte Star of the World Football League.
Trudeau started drawing his "Doonesbury" comic strip for the Yale Daily News back in 1968, when Dowling was setting a Yale passing record (1,554 yards for 19 touchdowns) and leading the Bulldogs to a spectacular 8-0-1 season.
"I didn't know him very well," Trudeau said in a telephone interview recently, "but he was a legend, and I modeled the strip after the legend."
That Dowling was the biggest thing to hit New Haven since the Connecticut Turnpike is now understatement.
"He's the standard we measure all our other quarterbacks by," said Yale's sports information director, Pete Easton. "he's the kind of hero up her that Richard Petty is in North Carolina."
Dowling, 27 and a veteran of six years of mostly riding the bench in pro football, says he reads the "Doonesbury" strip and likes it, but says, "There's no similarity between me and the character."
Trudeau says he modeled the strip after the legend.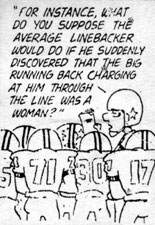 B.D. In Huddle
The soft-spoken Cleveland, Ohio native said, "I was getting a lot of publicity then, and the team was doing well; he (Trudeau) satirized a lot of my publicity. But now that I'm out of school, there's no relationship there at all."
In the years since Dowling graduated in 1969, he has never become the hero in pro football that he was at Yale. Drafted by the Minnesota Vikings, he was released a year later, then spent two years with the New England Patriots before ever getting in a game.
He played in 14 games for the Patriots in 1972 as reserve quarterback; then he sat out the whole 1973 season. With the then-New York Stars of the new World Football League so far this season, he has again been in reserve behind Tom Sherman.
Dowling says he is happy about leaving New York and coming to Charlotte, though he has never been here before.