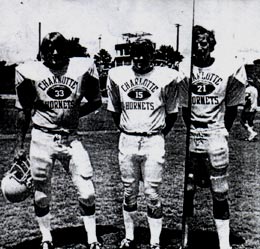 HORNETS shown above L to R are Art Reynolds, linebacker, Tennessee; Robbie Reynolds, punter, and Mike Haggard wide receiver. Reyolds and Haggard of Shelby High School, played for the University of South Carolina.
Saturday afternoon was a delightful day for me and much different from the normal Saturday of golf, yard work or a weekend trip. the occasion was a visit with the World Football League Charlotte Hornets at their training camp at Gardner-Webb College.
We began the day at the luncheon training table where we met Upton Bell, president of the Hornets, Bob Gibson, head coach, John Evenson, publicity director, and other members of the coaching stall.
Upton Bell is a delightful individual, brimming over with personality and optimism. In our opinion, he has already accomplished a miracle by having 75 players in training and placing a team on the field.
Bell and Gibson are extremely confident about the future of the Hornets in the WFL. Emphasis appears to be on youth and development of a team over the next few years.
Bell revealed that he is definitely interested in Chris Kupec, Carolina's great quarterback last year. Bell intends to offer Kupec a contract pending the outcome of Kupec's case for another year in the ACC.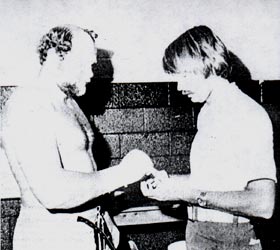 LEN ST. JEAN, 250 pound, offensive guard of Hornets gets taped up, before the Saturday scrimmage. (Photo by Fred Watson)
Bell and Gibson both give us the feeling in informed chatter, that no one in particular has a position sewn up - each position is up for grabs.
The one-hour scrimmage in 90 degree temperature was perhaps dominated by the defense.
The Hornets have only been in training one week and many rough spots are apparent. We expect both offense and defense to improve with time, Gibson says with both show signs of quality at this particular stage.
We have a feeling the Hornets will have to improve to stay with the top 3 or 4 in the League - perhaps Birmingham, Memphis and Southern California, according to President Upton Bell.
Two definite opinions we left the training camp with were: (1) Upton Bell intends for the Charlotte Hornets to be a success and (2) if I ate at the training table many times with the Hornets, I would turn into a HEAVYWEIGHT.
The food was VARIED, PLENTIFUL, and TASTY.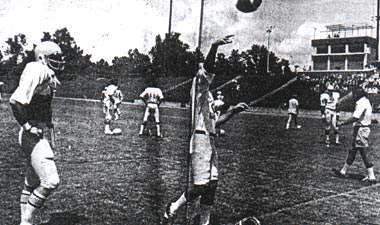 TOM SHERMAN, leading candidate for starting quarterback for The Hornets, limbers up the arm prior to game time.