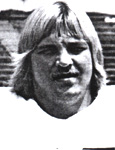 Charlie Tiblom ...disheartened Hornet
"We've proven we're competitive," says Charlotte Hornets linebacker Tom Chandler, "but it hasn't been proven we're wanted here. It remains to be seen if people want us here."
Chandler was talking Thursday in the wake of last Sunday's paid crowd of 7,000 for a home game with Jacksonville, a club with a winning percentage of .667 when he entered the contest on a warm, fair afternoon.
Yet before that game was even played, Hornets President-General Manager Upton Bell said advanced sales for the next home game against the 4-6 Hawaiians on Oct. 25 were greater. That game will be played at night.
THE 7,000 was a puzzling comedown from the first three home games, all at night. the opener with San Antonio drew 8,500, the second game against Philadelphia 11,500 in a driving thunderstorm an the third with Southern California 15,500.
"It was escalation, I thought we were coming across to the people," said center Charlie Timblom, "and this (last) game was very disappointing.
"You're playing and busting your hump in practice all week and you expect to have support, but it's dishearten when nobody, so to speak, is in the stands. You try to be professional and play over it, but without the fan's support, there will be no league."
"They're the ones paying your check."
The Hornets, and most World Football League players, receive $500 a game, plus a percentage of the gate receipts over a break-even attendance figure. Such bonuses have been few this year.
"I WASN'T disappointed the other day," said Fullback Lewis Jolley. "It was a big weekend, with a lot of college games in the area, and people maybe hadn't gotten back from them. It was pretty day and the World Series was going on (on Television).
"I'd like to see the stadium full, but I was not all that disappointed in it (the turnout). If we win our share, people, in the long run, will be there."
The Hornets, expected by many to be struggling in the first half of the season because of inexperience and an overload road schedule, are 6-4 and in the thick of the Eastern Division race.
"Our record has proven we're a competitive team - I don't think that's a factor," Chandler said. "I can't see making judgments on Sunday afternoon yet. But Saturday night games are like a big event o people. Yet, the NFL makes it on Sunday.
"THERE'S A LOT of excuses you can use, but the plain and simple fact is that if Charlotte wants us here, they'll have to come out and support us. "We've go to be wanted in order to stabilize the team, but you can't wait on stabilizing to come out. People take a wait-and-see attitude, but if they wait too long, we won't be here.
"I don't know if we're accepted here or not. The core of 6,000 to 7,000 people who yell and scream their heads off make playing here a pleasure and a privilege, but that's not enough people support us financially. I'm concerned myself that our league is so totally dependent on being wanted by the community we're in."
Chandler said he's "noticed nothing at all" about Sunday's poor response adversely affecting the players this week because "we've all got our jobs to think about on this team,"
Tiblom said he'd "talked to a few guys and the reaction is the same - what a lousy crowd. There's no excuse, except the didn't show up.
"FOR A TOWN trying to support a pro football league, they should get out there regardless," Tiblom continued. "You ask people if the go to a game and everybody has excuses.
"I've been in both league and except for a few superstars, everybody has the same abilities. the NFL teams just have more money."
Tiblom, calling for a need of "good publicity" for the WFL, indicated that the Hornets' final five home games, four of them in successive weeks would test local acceptance. he approved of Portland's reduction in ticket prices for this week's game because of the "crisis situation there" but didn't advocate that move here.
Last fall, the Hornets average more than 20,000 for four home games with prices set at $7.50 and $5.50. "There's no way ticket prices are too hard on people," Chandler said.
"We're charging half of the NFL, and I know we're at least half as good and at least half as good a product to watch."