O'Dell Sox of Larchmont Circle in Charlotte was late getting home Wednesday afternoon and hadn't heard the news. She was unaware that she and her husband, Montie, had lost their $100 investment in the Charlotte Hornets.
"You're kidding," she said when a reporter, who called her at home, told her. She'd only missed one home game since the Hornets moved to Charlotte.
The team share brought by me Sox couple was an investment in Charlotte football, not to make money. And like many other investors, Mrs. Sox was looking forward to Saturday night's game.
The Sox couple was one of perhaps 200 investors who invested $100 to $500. There were other investors who put up as much as $25,000.
Like the small investors, it is doubtful they will get much, if any, of their investment back.
James. V. Johnson, president of the Charlotte Coca-Cola Co. Consolidated, which invested $10,000 in the team, had invited guests for the evening and planned a post-game part. Now, he said, "We'll just have to find something else to do."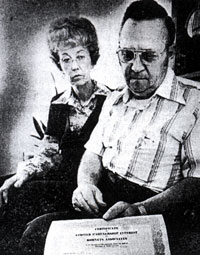 Hornets Investors O'Dell and Montie Sox with their stock certificate.
Johnson said his company's policy has been - anything good for Charlotte is good for the company. And the Hornets, the company thought, were good. The loss won't stop the company from making such investments in the future, he said, but it put a damper on Johnson's spirits.
"I don't guess I'm really surprised. I knew (the WFL) couldn't go on and on losing money. But I'm real sorry. I hoped it would make it. We think Charlotte is a major league city and it needs major league entertainment.
Luther Hodges Jr., North Carolina National Bank chairman who had a personal investment of at least $5,000 in the Hornets and whose bank had committed itself last spring to cover the teams money requirements for getting franchise, wanted to cry Wednesday.
Say he really "deplored" the circumstances in which the WFL majority voted to fold while the Hornets voted to keep playing. Hodges said: "I guess the cynics were right (about the WFL), and I was wrong."
Hodges called the collapse of th4e league the end of the Hornets "tragic". The only solace in that the Hornets themselves din not fail. but this definitely hurts the city," he said.
The effect on the city, which "doesn't have that much to offer," was a concern also to Nancy Stading, whose family moved to Oakwood Lane here from pro-sports world of Chicago.
"The money sort of means a lot to me - I've been unemployed and can't get unemployment insurance," said Ms. Stading. Still, she said, she invested in the team for football, not for a return on her $100.
Insurance man Eddie Battle of Botany Street also brought a $100 share. It was his first such investment. And, Battle said, "I'm kind of in love with the Hornets. I hope they'll try again here."
One of the major financial backers was Carolina Tractor and Equipment Co., which owned a $20,000 piece of the Hornets.
Company spokesman Brooks Eddy said the league folding was not really a surprise to the company, and that there was "obviously nothing we can do."
"We thought (the Hornets were) a good thing for Charlotte. And we saw the investment as our civic responsibility."
The Miller Orthopedic Clinic had a investment of $1,000 in the Hornets. And the clinic's doctors were team the team's doctors. Clinic business manager hadn't heard of the team's folding, and there was really nothing to say.
The WFL collapse, also was also personal blow to Chamber of Commerce president Donald Bryant, who helped bring pro football to Charlotte and tried to keep it here. But Bryant wasn't discouraged.
"I feel like this was not our last chance. We learned a lot. And we know how we could approach it next time," he said.
His concern was for the players, he said, who "are going to need something to do now to earn a living" and for the volunteers "who worked awfully hard."
Bryant praised the players themselves, Upton Bell, Hornets president and general manager, and the community people who got involved.
A local radio station, for instance, had a contest in which people donated money to buy Hornets' shares in the name of Big Brothers Association. The volunteer agency, which itself has felt a threatening financial pinch recently, owned $9,200 worth of the team.
Director George Mitchie said that the agency hoped for a return on the investment but, fortunately, had not budgeted for a return. It would have "just been gravy on the potatoes, so to speak."