The Charlotte Hornets - players, coaches, Upton Bell, trainers, equipment manager, public relations directors- all of who had worked so hard to turn a despondent-looking situation into a successful winning organization, met for the last time as a group at high noon Thursday.
Outwardly, there were no tears, only long faces, last handshakes and sad good-byes as they departed their former practice site, the Gus Purcell Day Camp.
Inside, they were crying.
"I've never been associated with a bunch of young men who gave such effort," said Herb Patera, the friendly outgoing linebacker coach, "It's like a love affair, like a marriage. To see guys work so hard and then have to drive out of this parking lot."
"I didn't expect this at all," said quarterback Tom Sherman, the Hornets' most valuable player in 1974. "Last year when we moved here from New York we were still playing hall, but this year, it's nothing. It's gone. It's sad."
Kreg Kapitan's parents were on hand. They had planned for months to visit Charlotte when the team was home for consecutive weeks. Kreg, a wide receiver who was finally healthy after five games, tried Wednesday to stop his parents in Minnesota, then at their change of planes. But the Kapitans arrived her late Wednesday only to be stunned by the news of World Football League's demise.
Now, they may never see their son play a regular-season game.
"Frustration is about it," said Jere Brown, a linebacker and the leading tackler on the club, "People tried so hard... volunteers, Upton Bell, people in the city, people who had faith we were going to make it.
"It's like popping a balloon."
The coaches - whose incredible job of creating an above-.500 club (6-5) basically from scraps will now go unrewarded - concerned in their meeting but with Bell, the Hornets' president, and a few members of the press. The mood was astonishingly light, there was no gloom and Head Coach Bo Gibson kept the crew laughing by again displaying his marvelous humor.
"I'm going to apply for unemployment," said Gibson, who has invested wisely in condominiums in Florida.
"Seriously, I would like to stay in pro football, but the whole thing now is to try to get these players and coaches employment. They may not be financially able to move with their leases. They need jobs. They need jobs. These people are capable of doing a lot of things. There were no bums on this team."
Finding work seems to be the first priority of most players.
For a guy like Dana Carpenter, a backup middle linebacker, his last professional football game may be behind him. He was cut after 12 games last season with the New York Stars before thy moved here.
"Last year was the roughest thing I'd ever had to face," said Carpenter, who holds an undergraduate degree from South Carolina. "I was down in the dumps, and it was heartbreaking to me.
"This year it's just as bad, but I'm not a lone. It's like a wall crushing you, and there's nothing anybody can do this time. But I enjoyed it, it was helluva experience. I just hate to see my close friends and all leave."
For a guy like Randy Cobb, a promising rookie wide receiver, his best football my be ahead of him.
"I don't have much bargaining power, though," said Cobb, a little used end in college at Duke. "I wanted to prove to myself I can or I can't. I kinda like the statement, it's better to try and fail then not to have the guts to try.
If nothing else, Cobb met his future bride in Charlotte and will be married here in January.
Sherman, one of the veterans of the basically young team, is already married.
"I've got three kids and a wife, with two in school, to support," said Sherman, an off-season resident of Charlotte, "and I've got to figure out what do. It's a big decision. It may be a little easier for the single guys, but we're all in the same boat and I have to pack up and see if I can find something up North.
Many players would like to try the National Football League, which may increase its 43-man roster by three or four to make room for WFL, pickups. Most of the Hornets have served before in the NFL or Canadian League, whose season is almost over. Bell said the club had received calls from 10 NFL team, and 2 CFL clubs.
"There's not doubt in my mind I can can play anywhere," said linebacker Tom Chandler, one of 18 remaining members from the original New York Stars. "But the NFL players are of such closely matched quality that it's hard to get a look. It's hard to be anybody but on of the crowd. You have to get a break and be totally committed
The now-injured players, like guard John Culpper (who pinched a nerve in his shoulder Wednesday only minutes before the final work came, should be covered by workman's compensation. Running back John Sykes is recuperating from surgery in Memorial Hospital.
"A lot of good football players are out a job, players who won't get a chance to play elsewhere," said Sykes, planning to pursue his masters in rehabilitation and counseling.
"As bad as all this hurts," said cornerback Sonny Hicks, "I'm lucky because of my masters (from Bowling Green) and I can teach. To the guys without degrees and the family men, it's really hazy. There's guys on this team with young babies to feed and o undergraduate degree. I have a lot of sympathy for them.
"But I'm an optimistic person. I will not accept the negative and I think something good will come out of this for me. It hurts, it hurts awful bad, but as hard as it is to keep your chin up, worse ha happened and you have to go with this."
Guard Larry Butler, one of the injured, agreed. "Worse things could have happened," he said. "The plane could have crashed with the whole team."
And in truth, when the Hornets looked closely at the situation, it was only the end of the World Football League, no the end of the world.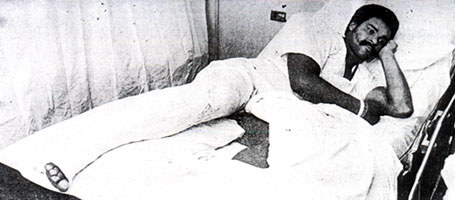 WFL's Folding Was More Than Just A Mental And Monetary Letdown For John Sykes ...Achilles tendon injury hurt a little harder for Hornets halfback.