Contributors
We would like to thank the following contributors to the Charlotte Hornets Football Network Web site:
Mark Speck
Chuck Gardner
Jim Cusano
Greg Allred
Chris Gmyrek
Tod Maher
Mark Hayne
Dennis Chamberlin
Gene Crowley
Robert Phillips
Kevin Smith
Kerry Smith
Todd Franklin
Forrest "Trees" Sours
Antonio Abate
Gerry Gluck
Stan Lane
Mike McBride
Tom Hultman
Paul Reeths
John Landers
Chuck Moore
Charles Arey
Mike Gardner
Noel Library
WSOC TV 9
WBT AM 1110
Charlotte Observer
NBC 6 Sports Extra
Chuck Howard
Herb Gluck
Joe Carter
WFL Club Yahoo Group
Sports Collectors Digest
Chris Creamer
Ben Haberek
Most of all I want to thank Jayme Arellano for his technical support and his assistance on our page designs. This Web site would not be possible without your dedication and your commitment to detail.
Stars/Hornets Contributors
We would like to thank everyone that was associated with the New York Stars and Charlotte Hornets WFL football organizations. We would like to especially thank the following alumni listed below:
Jere Brown
Janey Felz
Tom Sherman
Coach Babe Parilli
Coach Bob Gibson
Terry Hoeppner
Moses Lajterman
Tom Wilkinson
Robby Reynolds
Steve Setzler
Upton Bell
Jon Anderson
Coach Lamar Leachman
Kreg "Kap" Kapitan
Darrel Bunge
Bob Hermanni
Dana "Eggman" Carpenter
Tom "Chanimal" Chandler
Art Reynolds
James "JT" Thompson
Greg "Loukie" Lens
John Elliott
Gerry Philbin
Al Young
Cliff Greenfield
Kent Pederson
Gary Danielson
Larry Butler
Harold Johnson
Matt Snorton
September 6, 1975, I recorded the Philadelphia Bell at Charlotte Hornets WFL football game from the WBT-1110 AM broadcast on my cassette tape player. I named this Web site after the liner Harold Johnson said prior to every commercial break... This is the Charlotte Hornets Football Network.
When I started this Web site I used that crackling recording from my original cassette tape for a voiceover as part of the introduction on our "Home" page.
Recently, I contacted "The Big Guy", Harold Johnson, and asked him to record a fresh version of that voiceover. Harold was more then happy to comply.

A "Special Thanks" to Harold Johnson and Charlotte's WSIC-AM Program Director, Brian Weiss for the new updated liner for our Web site. Thank you both... Harold, you're the best!
WFL Collector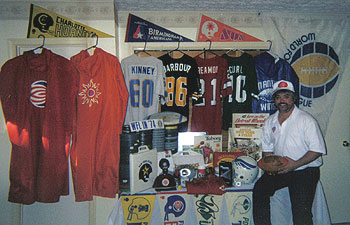 Richie Franklin, World Football League Collector.
We are always looking to buy memorabilia from the World Football League and the Charlotte Hornets. Please contact us if you're interested in selling your WFL collection.
We are looking for WFL coaches' game films; WFL games recorded on audio tape, WFL game photos, WFL game used equipment. Anything related to the 1974-75 New York Stars and Charlotte Hornets World Football League teams.
Contact Richie Franklin