Mention the Charlotte Hornets to any sports fan and immediately they will think of the NBA team.
Richie Franklin of Stephens City, VA, isn't like the others. When he thinks of the Hornets he immediately harks back to the Hornets of the World Football League. The Hornets began as the New York Stars, but on Sept. 20, 1974, moved to Charlotte and two weeks later became the Hornets.
Franklin, who is 40, worked with Jim Cusano to produce the WFL Hall of Fame web site. Franklin wanted to take it a step further by dedicating a site to his favorite WFL team, the Hornets.
"As a teen-ager, I used to listen to the Hornets on WBT-AM. Putting this site together has brought back a lot of great memories of listening to those games on Saturday nights in 1975," he said.
Franklin sat down in August 2000, and went through his collection of WFL photos, articles, and research. He then sketched ideas for the site on paper and contacted Webmaster Jayme Arellano.
"Jayme has done an outstanding job of putting this all together for me," he said. Franklin, who also received help on the site from Mark Speck, Chuck Gardner and Chris Gmyrek. "We have spent a lot of time on this."
Whether you're a WFL collector or just a football fan, you will notice that memorabilia is very important to this site. Click on game summaries and you will notice photos of the program and, in many cases, tickets are showcased along with statistics.
"For any WFL fan memorabilia is all that is left," he said. "For me, my WFL collection keeps the league alive. As a kid I wrote to all the WFL teams, and asked for team photos, stickers, etc. When the league folded that is all I had."
The site's memorabilia section spotlights a 1974 Hornets pennant, bumper stickers, ticket brochure, picket schedule, and helmet.
"I do not think you can put together a site on a defunct team or league, and not feature any of the memorabilia from that era," Franklin said. "The fans love to see these items because they bring back so many memories. Unfortunately, there is not a lot of Hornets memorabilia out there. There are a some programs that show up, and a few other paper items, but that is it. As big as my WFL collection is I do not own a Hornet helmet or jersey.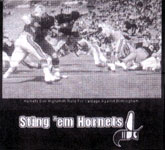 A look at the WFL Hornets home page
"I have a newspaper article where the Hornets held an auction after the league folded. They sold 90 jerseys at $20 apiece and 60 helmets for $25 each. As rare as these items are can you imagine what they would go for now? I hope soon to feature more memorabilia on the site."
Another impressive feature on the site is the game film and audio sections. According to Franklin, rumors have circulated that WFL games aired on the TVS network in 1974 were destroyed by mistake. This site offers the perfect venue to offer video to football fans who have never seen any WFL action. It also includes radio broadcast of 16 plays from 1975.
"The film and audio clips have been a success on the site," Franklin said. "The e-mail I get since the film and audio went up has been very complimentary. You can always find stats on the WFL. The film and audio makes the site special, and brings the WFL back to life. The WFL Hall of Fame site well soon have video, too, and will give all the WFL fans another chance to view WFL footage."
Franklin said he located WFL 16mm coach's film through the first cop of Sports Collector Digest he ever picked up.
"The late Bob McVey, who was a longtime SCD dealer, sold me some reels in 1982," he said. "I was able to locate some more film here and there after that. Greg Allred, Jim Cusano, Dennis Chamberlin and I were able to locate some color WFL footage recently. It's been tough tracking film and audio down. We know it is out there, but out search has been a long and difficult one. I call our little group 'WFL Films.'"

The site also offers a History section, Photo Gallery, Hornets Q & A, Poll, Stats, Archives, Hornets Game Transcript, Guestbook, and Links.
"I take pride in the site by going the extra mile," Franklin said.
Also, through Franklin's Web site efforts, former Hornets offensive tackle Darrel Bunge and ex-linebacker Tom Chandler are shooting to have the reunion within the next year in Charlotte. Any former Hornets player who is interested may contact Franklin at wflfan@yahoo.com or Bunge at dbunge@mediaone.net.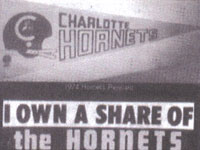 Memorabilia is featured on the site