1975 Charlotte Hornets Team Directory
Charlotte Hornets
3625 NCNB Plaza
Charlotte, North Carolina 28280
704-377-9424
Governor
Upton Bell
Alternate Governor
Richard Thigpen Jr.
Business Manager
Jon Anderson
Accountant
Richard Grigg
Director of Public Relations
John Evenson
Assistant Director of Public Relations
Bob Dickinson
Director of Sales
Guy Charles
Team Physicians
Basil Boyd, M.D.
David Johnston, M.D.
Head Coach
Bob Gibson
Director of Player Personnel/Receivers Coach
Tom Beer
Assistant Coaches
Joe Clark, Offensive Line
Jim Vechiarella, Defensive Line
Herb Paterra, Linebackers
Lindy Infante, Defensive Backs
Trainer
Ric Courson
Assistant Trainer
Tom Wilkinson
Equipment Manager
Bob Lambert
Stadium
American Legion Stadium (25,433)
Game Times
Saturdays, 8 P.M.
Sundays, 2:30 P.M.
Colors
Green Bay Gold and Black
Charlotte Hornets
Hornets Associates is a limited partnership made up of shareholders with Upton Bell the President and General Partner. Under the structure of the World Football League and the Hemmeter Plan, Upton Bell is also recognized as the team's Governor and President.


Upton Bell
President/Governor


Richard Thigpen Jr.
Alternative Governor
Charlotte Hornets Administration


Jon Anderson
Business Manager


John Evenson
Director of Public Relations

Richard Grigg
Accountant


bob Dickinson
Assistant Director of Public Relations
Charlotte Hornets Staff


tom beer
Director of Player Personnel


Ric Courson
Trainer


Bob Lambert
Equipment Manager


Tom Wilkinson
Assistant Trainer

Hornets Business Manager, Jon Anderson and Guy Charles, Director of Sales.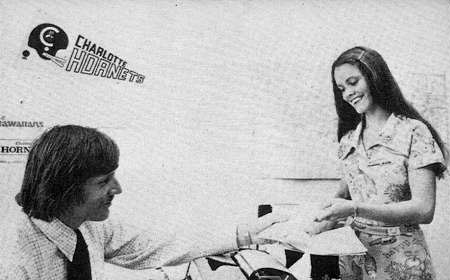 Tom Beer and Joan Fulp.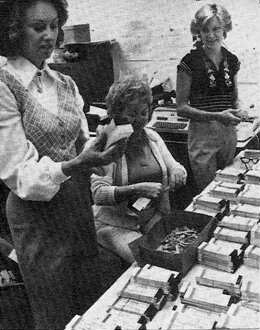 Elaine Griffith, Evelyn Woller, and Debbie Marshall.