1974 New York Stars College Draft
The World Football League held their inaugural College Draft on January 22, 1974. It was held at the Marriot - Essex House in New York City. The WFL held the first six rounds on this date and the final thirty rounds on February 5, 1974. The Boston Bulls held the second overall pick in the draft and selected quarterback, Gary Marangi, from Boston College. On Feb. 18, 1974, WFL Commissioner Gary L. Davidson announces that a merger between the Boston Bulls and the unnamed New York entry have merged. Howard Baldwin, owner of the Bulls and Robert Schmertz, owner of the original New York franchise, have moved the Boston franchise (and their draft picks) to New York. On March 4th, the team was renamed New York Stars. Meanwhile, the original New York college draft list went to Boston, and then eventually ended up in Portland, Oregon where that franchise on March 20th became the Portland Storm.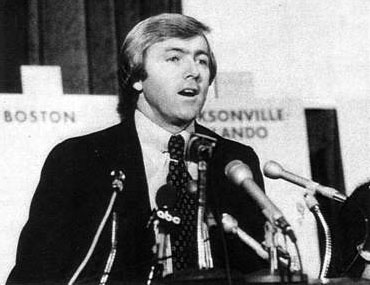 Commissioner Gary L. Davidson opens up the 1974 World Football League College Draft.
1974 New York Stars College Draft
Round
Pick
Player
Position
College
1
2
Gary Marangi
QB
Boston College
2
23
Carl Barzilauskas
DT
Indiana
3
26
Randy Gradishar
LB
Ohio State
4
47
Dave Gallagher
DE
Michigan
5
50
Keith Fahnhorst
TE
Minnesota
6
71
Steve Corbett
C
Boston College
7
74
Jimmy Allen
DB
UCLA
8
95
Steve Neil
LB
Minnesota
9
98
Matt Herkenhoff
OT
Minnesota
10
119
Tom Forrest
OG
Cincinnati
11
122
Darryl Bishop
DB
Kentucky
12
143
Alvin Maxson
RB
Southern Mississippi
13
146
Monroe Eley
RB
Arizona State
14
167
Ransom Terrell
LB
Arizona
15
170
Doug Troszak
DE
Michigan
16
191
Mark Gefert
LB
Purdue
17
194
Tom Condon
OG
Boston College
18
215
Reggie Harrison
RB
Cincinnati
19
218
Phil Bennett
RB
Boston College
20
239
Leroy Jones
DE
Norfolk State
21
242
Rudy McClinon
DB
Xavier
22
263
Willie Viney
OG
Pacific
23
266
Chris Arnold
DB
Virginia State
24
287
John Robb
OG
Pittsburgh
25
290
Gary Champagne
LB
LSU
26
311
Greg Pemberton
DB
Boston University
27
314
Preston Anderson
DB
Rice
28
335
Jeff Rouzie
LB
Alabama
29
338
Scott Marquis
OT
Tulsa
30
359
Dale Cangelosi
DB
LSU
31
362
Jim Hovey
LB
Kentucky
32
383
Darryl McGallian
LB
Houston
33
386
Dave McMaken
S
Alabama
34
407
Riley Moore
DE
Tennessee State
35
410
Steve Frager
OT
Brown University
36
431
Damond Mays
RB
Michigan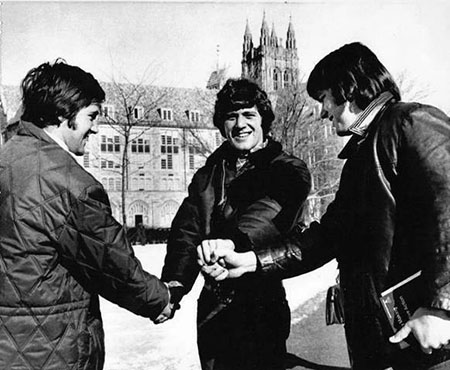 Gary Marangi, Quarterback (Center) is congratulated by Boston College teammates Chuck Lee (Left) and Greg Brand (Right) after being the first draft pick of the Boston Bulls, and the second overall selection in the 1974 WFL College Draft.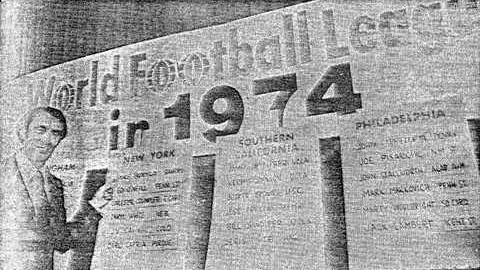 Bob Schmertz, CEO of the original New York franchise points out their number one draft selection. The team chose Stanford University Quarterback, Mike Boryla, with the sixth overall selection. The New York draft picks were later transferred to Portland.
NOTE: This page was researched by Richie Franklin and Chuck Gardner. The Gary Marangi photo is courtesy of the John Landers WFL Photo Collection.