Game Info
Week 2 - July 17, 1974
Game Location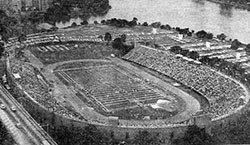 Downing Stadium
Randalls Island, New York
Game Facts
Stars first home game.
Game Time: 8:00 PM (EST)
Attendance: 17,943
Coaching Staffs
New York Stars
Head Coach

Babe Parilli
Assistant Coaches
Steve Barber
Tom Beer
George Boutselis
Lamar Leachman
Tom Moore
Birmingham Americans
Head Coach

Jack Gotta
Assistant Coaches
Lynn Amedee
Marvin Bass
Wayne Grubb
Billy Tohill
Ardel Weigandt
WFL Press Release(s)

New York Stars

Birmingham Americans
Media Information
WOR-TV 9 and WSNL-TV 67
Sal Marchiano (Play by Play), Matt Snell (Color), George Plimpton (Color)
WMCA-AM 570
John Sterling (Play by Play)
The New York Times, New York Post, New York Newsday, and New York Daily News
NOTE: The New York Stars-Birmingham Americans game was televised on HBO Sports. The Stars game also aired on their radio flagship station, WMCA-AM 570.
NOTE: The 1974 New York Stars Week 2 Game Summary was researched by Richie Franklin, Jim Cusano, Chuck Gardner and Chris Gmyrek. Game stats and the New York Stars transactions were researched and compiled by Mark Speck, Tod Maher and Richie Franklin. Special "Thanks" to Herman Giesbrecht and Paul Reeths for their assistance. Mark Hayne and Greg Allred provided photos and articles. This page was designed by Jayme Arellano and Richie Franklin.