Game Info
Week 3 - July 25, 1974
Game Location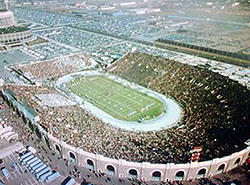 John F. Kennedy Stadium
Philadelphia, Pennsylvania
Game Facts
Stars number one offense.
Bell number one defense.
Nationally televised game.
Game Time: 9:05 PM (EST)
Attendance: 64,719
Coaching Staffs
New York Stars
Head Coach

Babe Parilli
Assistant Coaches
Steve Barber
Tom Beer
George Boutselis
Lamar Leachman
Tom Moore
Philadelphia Bell
Head Coach
Ron Waller
Assistant Coaches
Nick Cutro
Joe Gardi
Andy Nelson
Bob Pellegrini
Ernie Wright
WFL Press Release(s)

New York Stars

Philadelphia Bell
Media Information
WOR-TV 9 and WSNL-TV 67
Sal Marchiano (Play by Play), Matt Snell (Color), George Plimpton (Color)
WMCA-AM 570
John Sterling (Play by Play)
The New York Times, New York Post, New York Newsday, and New York Daily News
NOTE: The New York Stars-Philadelphia Bell was a nationally televised game on the TVS Sports Network. It aired on WOR-TV 9 as they were one of the TVS affiliates. The announcers on the WFL TVS Game of the Week were Merle Harmon (Play by Play), Alex Hawkins (Color) and guest commentator, Jane Chastain (Color). The Stars-Bell game was the first televised professional football game to have a woman broadcaster in the TV booth.
NOTE: The 1974 New York Stars Week 3 Game Summary was researched by Richie Franklin, Jim Cusano, Chuck Gardner and Chris Gmyrek. Game stats and the New York Stars transactions were researched and compiled by Mark Speck, Tod Maher and Richie Franklin. Special "Thanks" to Herman Giesbrecht and Paul Reeths for their assistance. Former Bell Cheerleader, Donna Auerbach, provided photos and articles. This page was designed by Jayme Arellano and Richie Franklin.