Game Info
Week 13 - October 25, 1975
Game Location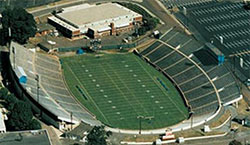 American Legion Memorial Stadium
Charlotte, North Carolina
Game Facts
WFL disbanded October 22, 1975.
This was the start of a Hornets four game home stand.
Game Time: 8:00 PM (EST) (Cancelled)
Attendance: N/A
Coaching Staffs
Charlotte Hornets
Head Coach

Bob Gibson
Assistant Coaches
Tom Beer
Joe Clark
Lindy Infante
Herb Paterra
Jim Vechiarella
Hawaiians
Head Coach

Mike Giddings
Assistant Coaches
Damon Bame
Chuck Detwiler (Player/Coach)
Ed Peasley
John Wilbur (Player/Coach)
Billy Wilson
Adrian Young (Player/Coach)
WFL Press Release(s)

Hawaiians
Media Information
WRET TV 36 (Charlotte, NC), WGHP TV 8 (High Point, NC), and WCTG TV 17 (Atlanta, GA)
John Sterling (Play by Play) and Pettis Norman (Color)
WBT-AM 1110
Harold Johnson (Play by Play) and Matt Snorton (Color)
Charlotte Observer and Charlotte News
NOTE: There was no television coverage scheduled for this game in the Charlotte area. WBT-AM radio was scheduled to broadcast this game, but it was canceled because the World Football League folded on October 22, 1975.
NOTE: The 1975 Charlotte Hornets Week 13 Game Summary was researched by Richie Franklin, Jim Cusano, Chuck Gardner and Chris Gmyrek. Game stats and the Charlotte Hornets transactions were researched and compiled by Mark Speck, Tod Maher and Richie Franklin. Special "Thanks" to Herman Giesbrecht and Paul Reeths for their assistance. This page was designed by Jayme Arellano and Richie Franklin. The Hornets game film and audio clips are Property of WFL Films, and may not be used without the written consent of the Web site owner.